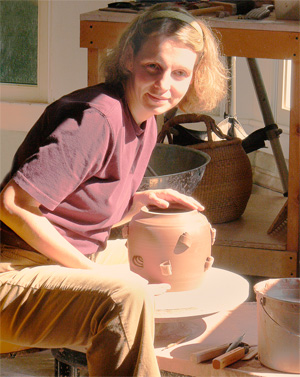 "Every artist's awareness comes out of a general sense of imperfection and the condition of brokenness. The world is a broken place, and we are all broken in it. Through our art, we find ways to mend it" said Wes McNair, Maine's Poet Laureate, in an article by Bob Keyes for the Maine Sunday Telegram, January 27th 2013. McNair's sentiment here partly explains why I became an artist. The other factor is because when there are no deadlines snapping at my heels, working in my studio with clay can make my heart sing.
I have been building thrown red stoneware pieces for twelve years, which I sometimes adapt, alter or augment. My style is contemporary; I'm all about form. My sculptural tastes veer towards minimalism although I do use color to enhance sculptural effects. My sculpture show in 2012 at the Zillman Gallery at UMaine Museum of Art, Bangor exemplifies this. The Museum Director asked me to make wall pieces, which I had never done, so I bought a slabroller and made 15" tiles. On the tiles I mounted bisected thrown vessels, thus rendering the vessels decorative but "non functional". Then my functional work was displayed in the gallery on podiums. The functional pieces echoed the bisected forms that made up the tiles, thus creating a dialog. My palette was red and white clay and slip and black, white and red glaze. The exhibition was a debate within and without about the much discussed status of "craft" versus "art" and my position on the map.
This August I am leading a two week Artist-Invite-Artist Residency at Watershed Center for Ceramic Arts. The potters I've chosen for the residency are from the far corners of Maine, some of whom make sculptures and paint too, plus I've also chosen two out-of-state filmmakers who are writers. The group will be collaborating on making teapots and the filmmakers will collaborate on making a film. Teapots are the trickiest thing a potter makes because there are several parts to them. I wanted to try some cross-artform collaborative work because I thought it might ignite some interesting creative sparks within the participants. The public will have a chance to view the results of this experiment at "The Teapot" exhibition hosted by the Center for Maine Craft in November 2013.
I get involved in community arts projects where I live in Central Maine, sometimes by writing grants. Perhaps it's because I'm trying to fix a broken world or perhaps it's because it's fun to work with other creative people on worthwhile causes. I helped set up an Arts & Crafts Co-op, which ran for twelve years and curated many exhibitions there. I teach two pottery classes through Adult Education and involve the students in Mudseason/Empty Bowls projects, which raise money for local good causes.