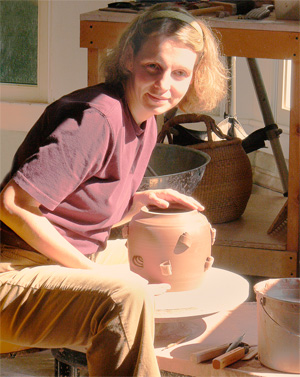 WHAT'S NEW FOR 2014
October 3rd Exhibition at Aarhus Gallery in Belfast
I am very excited about a show I have coming up at the Aarhus Gallery in Belfast, which opens on October 3rd. My sculptural work will be displayed alongside the photography of Michael Alpert.
Raku Kiln
I just built a raku kiln with the help of my husband and some students. We fired it for the first time on May 23rd. I've been firing my adapted and augmented functional and sculptural stoneware pieces in an electric kiln for the past fourteen years, so this raku firing was a departure for me, particularly as I'm usually very controlled in my throwing and glazing.
I got the four raku glaze recipes that were used, from two different books, one on 'Raku' and one on 'Glazing'. We dipped and poured the glazes on to the work. One of the glazes was disappointing as it bubbled, but the other three glazes surpassed expectation.
I still really love throwing. I love the physicality of it with the wet clay spinning through my fingers. I also enjoy teaching. My students teach me a lot with their questions. It was my Adult Education students who encouraged me to build a raku kiln. My first ever raku firing was last year on my residency with Watershed Center for Ceramic Arts. Reed Fahnestock, the Residency Manager at Watershed, was very helpful with his advice to me on how to build a raku kiln. View more photos on our May 23rd firing here.
Thoughts About Last Year's Residency at Watershed
I led a two-week residency at Watershed in August 2013. It was an Artist-Invite-Artist residency. My idea was a collaborative project making teapots together for a show in November at the Center for Maine Craft. I had curated two teapot shows in 2010 & 2011 and wanted to try the same theme but at a more focal venue. I invited Maine potters, international filmmakers and Maine painters to the residency. Other potters and students joined the project. I thought that the cross-artform platform had the potential to inspire all sorts of interesting creative sparks and it did I think to a small degree.
The definition and degrees of 'collaboration' were much debated during the two weeks of the residency. The project was successful in as much as there was a show of collaborative teapots in November at the Center for Maine Craft and a film was made and shown as part of the exhibit. The filmmakers felt they had plenty of material in the different personalities of the potters. The film revealed some of us struggling with the project but essentially it showed potters' methods and some of the practices they deploy to complete their work. It also highlighted the opportunity that is Watershed and its beautiful facilities. Click for more photos on our residency and exhibition. For more information about the film contact nina@number9pictures.com
The invited residents included: Simon van der Ven, Paige Pride, Austin P. Smith, Carole Ann Fer, Nina Chernik, Jule Belami.