MONSON POTTERY
©Caitlyn Dauphinee 2020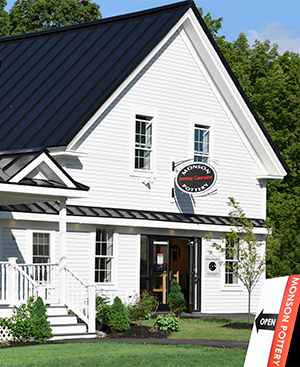 Monson Pottery began in February 2015 when I needed a bigger space to teach and sell from because my home studio had become too small. I rented a room in a former elementary school in Monson on Route 15. In May 2019, my new landlords, the Libra Foundation, moved Monson Pottery to larger premises. It's now located in a white 3-storied barn on 16 Greenville Road (Route 15), past the Monson General Store. It is equipped with four potters wheels, two electric kilns, a slab roller, extruder and raku kiln. There is a well-lit shop area at the entrance where my work, former student's work and former Monson Arts Residents' work can be perused and purchased.
Private classes are offered to individuals, families and groups. See Workshops page for more information.
16 Greenville Road, Monson ME 04464
Phone: 207-370-7099
E-mail: jemma@jemmagascoine.com
Hours: Wednesday—Saturday 10am—5pm
See Contact page for map.